About Rotary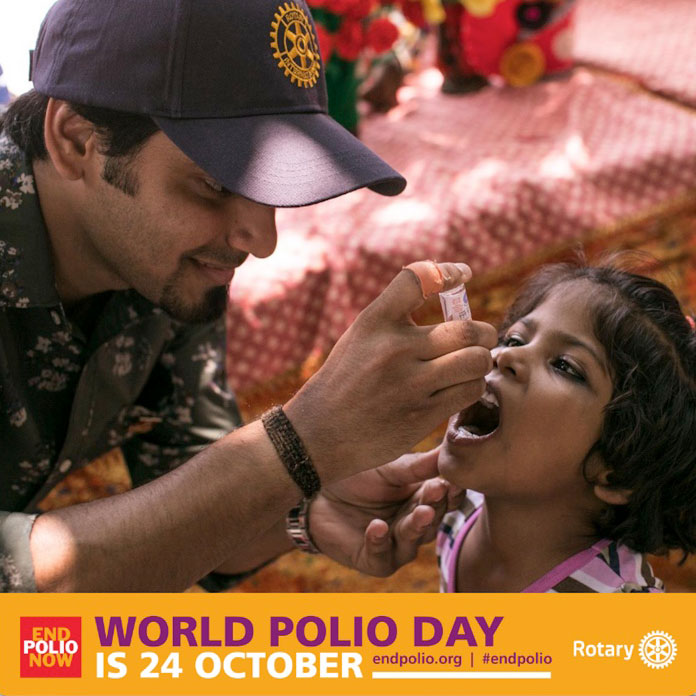 Rotary is a global 1.2-million-member organization which started with the vision of one man—Paul P. Harris. He formed one of the world's first service organizations, the Rotary Club of Chicago, on 23 February 1905 as a place where professionals with diverse backgrounds could exchange ideas and form meaningful, lifelong friendships. Rotary's name came from the group's early practice of rotating meetings among the offices of each member.
At the 1917 convention, outgoing Rotary president Arch Klumph proposed setting up an endowment "for the purpose of doing good in the world." That one idea, and an initial contribution of $26.50, set in motion a powerful force that has transformed millions of lives around the globe". This small endowment evolved into the Rotary Foundation. It is through the Rotary Foundation that the more than 35,000 Rotary clubs worldwide work together to:
Promote peace
Fight disease
Provide clean water, sanitation, and hygiene
Save mothers and children
Support education
Grow local economies
About the Corvallis Rotary Club
Our Legacy
The Corvallis Rotary Club founded in November 1923, is the original and founding local club. As it grew over the years the club generated multiple other local clubs including the Rotary Club of Greater Corvallis, Rotary Club of Philomath and the Corvallis Morning Club. In 1953, the Corvallis Rotary Club founded the Benton Community Foundation (BCF) with an initial donation amount of $2500. Today the BCF, one of the longest standing community foundations in Oregon, with its many funds donates tens of thousands of dollars each year to support our community through scholarships, services for homeless adults and youth, donations to the public schools, grants to arts and culture organizations, etc. We are so proud that the BCF is part of our legacy.
Club Leadership
Board of Directors 2023-24
Meets every third Thursday of the month immediately following the club's weekly meeting at approximately 1:00 pm
Ken Trueba, President
Peggy Sweet, President-elect, Membership Committee Chair
Joyce Maitland, Secretary, Speakers Committee Chair
James DiNardo, Treasurer
Barb Clauson, Youth Exchange Chair, Community Service Co-Chair
Gary Delander, Foundation Committee Chair
Dan Hallgrimson, Club Administration Chair, Songmaster
Erin Haynes, Scholarship Committee Chair
Terri Homer, M.D., Webmaster, Community Service Co-Chair
Mark Keppinger, Zoom Master, Social Media Chair
Richard Thompson, Sergeant-at-Arms
Karen Timm, DVM, PhD, International Service Chair
Club Committees
A perfect way to connect with your fellow Rotarians and make a significant contribution to your community is to participate in one or more of our committees. Contact the committee chairs for more information on how you can make a difference!
Membership Committee: Chair, Peggy Sweet
Meets every second Monday of the month at 3:30 p.m. by Zoom. Our mission is to strategize for recruitment of new members, review our practices for retention of our existing members, and to reach out to other clubs in our district to share ideas for best practices regarding membership.
Foundation Committee: Chair, Gary Delander
Meets every second Tuesday of the month at 1:00 p.m. on Zoom or in-person
The mission of the Foundation Committee is to educate members about the Rotary Foundation, and to encourage regular donations to the Annual Fund and to Polio Plus.
Scholarship Committee: Chair, Erin Haynes
Meets annually in April and as needed. This committee reviews the applications of the scholarship candidates (usually about 20 applicants), sets up interviews and chooses Benton County high school students for scholarship awards.
Community Services Committee: Co-Chairs, Barb Clauson & Terri Homer
Meets as needed. The purpose of this committee is to plan community service projects, recruit volunteers, and oversee the projects.
Social Media/Zoom Committee: Chair, Mark Keppinger
Meets as needed. Runs the weekly club Zoom meetings, recordings and maintains the public Facebook page and Facebook group page.
Speakers Committee: Chair, Joyce Maitland
This committee does not have formal meetings but is in constant communication exchanging ideas about engaging speakers for our weekly meetings from our community and beyond.